From today Soria black truffle and white Alba truffle are "twinned" to jointly promote tourism, gastronomy and trade links based on this product in both areas that have a great mycological wealth.
The Castile and Leon Regional Government and the Soria Provincial Council have signed the twinning agreement with Italian white truffle territory of Alba, Bra Langhe Roero. This truffle twinning event has taken place at the V International Mycology Congress "Soria Gastronómica".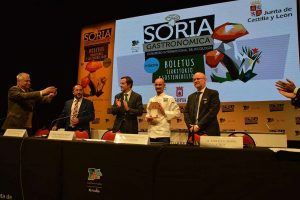 Following the agreement, the institutions involved will work to develop a program that include actions and events to tourist, gastronomic and promotional development between producers and truffle companies in both territories. It will also analyze the quality product and the commercialization process.
The first action has been the creation of the "Castile and Leon Mycology Prize" which this time has gone to the Italian chef Enrico Crippa, three Michelin stars at the restaurant Piazza Duomo in Alba (Italy).
Both institutions are committed to creating a Monitoring Committee to work in the twinning process.
Furthermore, at this Congress, the director of the European Mycology Institute, Fernando Martinez Peña, he has announced the creation of a European Network of mycological restaurants that will include the best restaurants in the region.