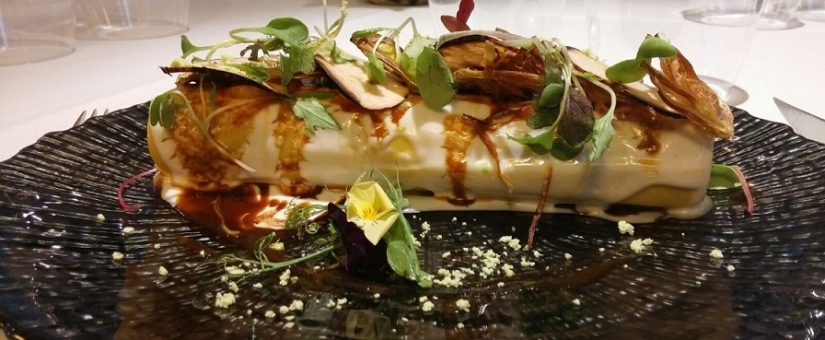 Cannelloni of Spanish bull tail with black truffles and artichoke chips
On 22/12/2016
0 Comments
black truffle, black truffle recipes, cook black truffle, cooking tips black truffle
Ingredients:Serves 4About 3-4 pounds of Spanish bull tail
2 onions
1 leek
2 carrots
1 head of garlic
1 bunch of thyme
1 bottle of red wine
4 lasagne sheets
Bechamel sauce:
½ l of milk
30g/1oz butter
30g/1oz plain flour
A truffle of 50-60 g (2oz), tuber melanosporum
2 artichokes
100 g/ 3,5oz Micro Mezclum
4 edible flowers
Method:

We stew the Spanish bull tail in a traditional way.  Let the stew cool and keep it.
Add the grated truffle and a little cooking juice; combine well until get a homogeneous mixture and keep.
For the canelloni, blanch the pasta in salted boiling water for 3 or 4 minutes. Keep it.
Let reduce heat until it´s bound and keep it.
We make a bechamel in the traditional way and grate the truffle over it. Keep it.
Cut some fresh artichokes as thin as possible and fry until crisp.
To finish the recipe:
Heat the cannelloni in the oven, about 8-10 minutes.
We place a little bechamel and some juice of the Spanish bull tail on the plate that will serve the canelloni.
We place the cannelloni over the top and spoon more bechamel sauce into the bottom of a canelloni dish in a layer  and add a little more of juice.
Place the artichoke chips and some truffle slices garnish with herbs and flowers.