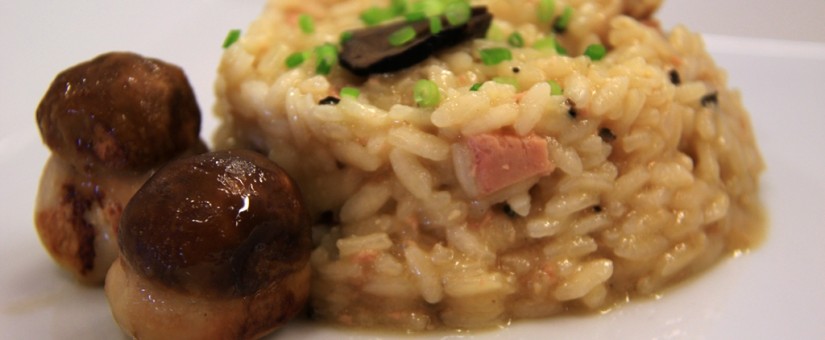 Risotto with boletus and black truffle
On 29/11/2015
0 Comments
cooking black truffle, recipe black truffle, risotto with black truffle, tuber melanosporum
250 gr of rice

200 grams of boletus

1l. of vegetable broth

½ onion

2 garlic cloves

3 spoons of extra virgin olive oil

1 spoon of butter

50 grams parmesan cheese

100 grams of black truffle
Heat the extra virgin olive oil and the spoon of butter in a pan.
Chop the onion and the garlick and then, simmer until tender.
We put the broth in a saucepan, and then we heat it. This broth can be both prepared previously or just bought it.
We add in the frying pan the sliced boletus and we leave it for 3 or 4 minutes.
Later on, we put half of the broth and the rice, with a pinch of salt. Then , we reheat for a few minutes, adding little by little the rest of the broth, gently stirring.
We let it boil during around 10 or 12 minutes a medium heat and stirring gently.
We add 2/3 of the grated truffle and then, we stir all the ingredients. We let it boil for 3 more minutes.
Once the rice is ready, we add the parmesan cheese and we mix it well.
We grate or slice finely the rest of the truffle over the hot plate and we serve.