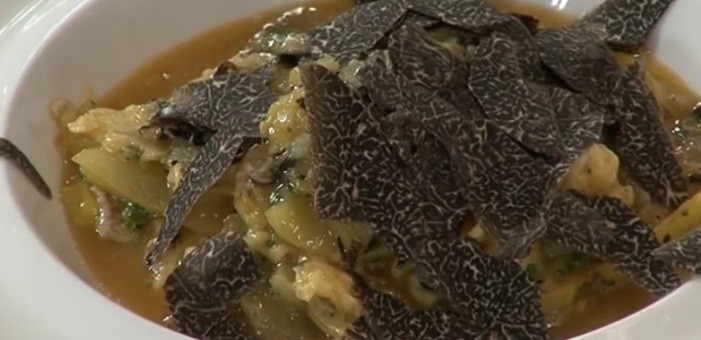 Scrambled eggs with black truffle and potato
On 25/11/2015
0 Comments
cooking tips black truffle, recipe black truffle, scrambled eggs with black truffle black truffle, tuber melanosporum
40-50 gr of fresh black truffle

3 potatos

1 leek

8 eggs

Olive oil

Salt
The truffle should be totaly clean, in case it's not, it must be cleaned with a soft bristle brush. This must be do it under the water and then let the truffle get dried on kitchen roll before using it for preparing the dish.
Peel the potatos and then, slice them thin.
Heat the oil in the pan and once it's hot, put into it the surface of the truffle.
Next, add the potatos into the pan and then fry them as if doing a spanish omelette.
Leave the potates to drain and save the oil.
Chop the white of the leek and fry it with the potatos' oil.
Chop the truffle finely, save a bit for later, then fry it for a week secongs along with the leek.
Beat the eggs with a pinch of salt. Afterwards, add it into the pan with the potatos.
Once on the plate, chop finely the rest of the truffle.
The dish is delicious and ready to taste